Competition now closed.
2022 Desmos Drawing Competition Christmas Winners are:
Year 7/8 Winner: School: Ysgol Friars Student Name: Alexander W
---
Year 9/10/11 Winner: School: Cowbridge School Student Name: Nicolas A
---
Year 12/13 Winner: School: Monmouth Comprehensive School Student Name: Sam N
---
It's that time of year again! Time to brush up on your Desmos skills and embrace your Christmas creativity.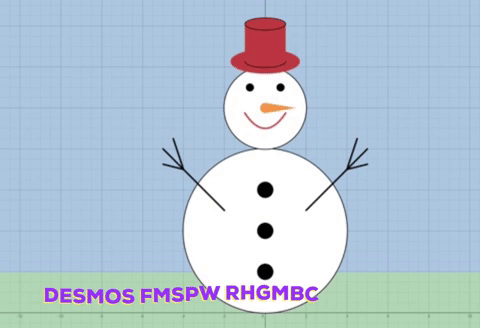 To see last years (2021) winners click here
Welcome to the Christmas Drawing competition! It's fairly straightforward, use Desmos to create a Christmas scene. Take a look at our Desmos Christmas constructions youtube playlist to get yourself started and get building!
If any teachers would like more guidance on using Desmos, please contact Alice here.
A £15 voucher will be available for the best Desmos drawing from Yr7 & 8, Yr 9, 10 & 11 and from a Yr12 – 13 student. We will contact the teacher to arrange delivery of prize.
To enter a student's Desmos drawing in the art competition, please complete and submit the form below. 1 form per student.
To see how to get the url watch this.
Drawings will be shared on our Twitter feed @RhGBMC_FMSPW as well as the winners.